The United Republic of Tanzania was formed out of two sovereign states: Tanganyika and Zanzibar. On the 9th of December 1961, Tanganyika became an independent state and became a Republic in the following year. Zanzibar became an independent republic after the revolution of 12th January 1964.
The two sovereign republics formed the United Republic of Tanganyika and Zanzibar on 26th April but was then renamed The United Republic of Tanzania on 29th October 1964. Tanzania is situated in Eastern Africa bordering the Indian Ocean between Kenya and Mozambique. A country vast and varied, it encompasses 945,087 square kilometers including the islands of Zanzibar, Pemba and Mafia. It boasts some of the finest wildlife sanctuaries in the world. Serengeti, Ngorongoro, Tarangire, Lake Manyara, Mount Kilimanjaro, Mikumi, Ruaha and the Selous.
The country has a population of approximately 38 million, taking in African, Asian, Arab and European cultures, Muslim, Christian and indigenous beliefs. There are more than 120 tribes and over 100 different dialects spoken in Tanzania, but all tribes speak Kiswahili. The main languages spoken are Kiswahili and English.
The city of Dar es Salaam (Haven of Peace), is the commercial capital and your point of arrival to Tanzania. Situated on the Indian Ocean, Dar es Salaam is the largest city in the country. It is vibrant, friendly, colourful, with sweeping white beaches, bustling streets, and markets which offer many exciting shopping opportunities.
LICENSING REGULATIONS AND RESTRICTIONS
The hunting season in Tanzania starts July 1 and ends December 31.
Neither animal is to be shot nor chased from a vehicle.
No hunting of female, young or immature animals is allowed.
Hunting is only to be conducted in the daylight hours.
The Tanzanian Wildlife Department allows the following game to be hunted only on a 21-day license: Elephant; Lion; Leopard: Oryx; Greater Kudu; Lesser Kudu; Sitatunga; Eland; Gerenuk; Sable; Ostrich; Klipspringer; Hippopotamus; Roan and Porcupine.
The minimum legal length for Leopard is 1.30 meters (51.2 inches) from tip of nose to base of tail.
The minimum legal for Elephant is 150 cm length (59 inches) of tusk or 15 kgs weight (33 pounds).
Minimum caliber for dangerous game is .375. Hunting with handgun, automatic and semi-automatic weapons is strictly forbidden.
3 Rifles and 1 shotgun per hunter and 100 rounds per rifle can be imported.
Bow Hunting has recently been legalized in Tanzania. The requirements for bow hunters are the same as those for regular hunters, although trophy fees are slightly higher.
Massailand Plains Game
The stunning and dry plains of Massailand have been a big game hunter's dream destination for years, and for good reason. This area is one of Tanzania's main attractions for the ultimate, unique hunting experience. Here, one can hunt special species that trophy collectors cannot find anywhere else in the world. Yet another reason to add Tanzania to your hunting safari bucket list!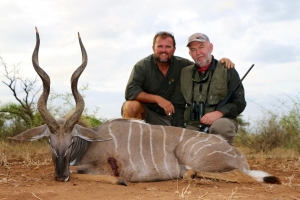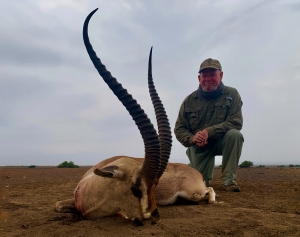 Selous Game Reserve, Tanzania
The Selous Game Reserve is one of the best places for a hunting safari. It is located in the southern part of the country and is the largest hunting concervancy in Tanzania. The Selous is uninhabited by people and is divided into 46 hunting blocks. The area is noted for its large population of dangerous game, especially buffalo. Leopard and lion are plentiful, as well as crocodile and hippo.
The vegetation is mainly miombo and riverine thickets. In the Selous one can not only experience the excitement of the Buffalo hunt, but also the adventure of a walking safari in one of the last great wilderness areas in the world.